Winter of Life European Tour 2010- March 15, 2009
News:
"We're on tour now, but it's likely that some more gigs could be confirmed, and it will be easier to update our Facebook page and our MySpace than our webpage. Check out those pages for news about our tour and new gigs. Thanks."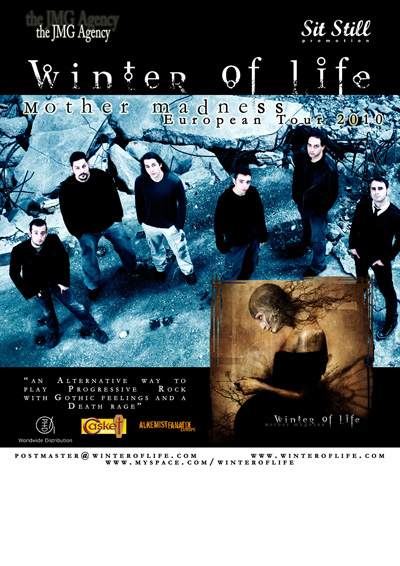 We are very proud to present our first European tour, which will take place between March and April in Austria, Germany, Belgium, Sweden and the UK.
Tour organization has been taken care of by Sit Still Promotion and JMG Agency.
Even if the first gig is very close, it is likely to have new gigs confirmed, so stay tuned for more.

For now confirmed gigs are:
March 20 - Andino, Wien (Austria)
March 21 - Schlappohr's Kneipe, Großefehn (Deutschland)
March 24 - Bodoni, Malmö (Sweden)
March 26 - Grand, Uppsala (Sweden)
March 27 - Taj Mahal, Vasteras (Sweden)
March 28 - TBC
April 03 - TBC
April 04 - The Dublin Castle, London (UK)
April 05 - Old Belly, Derby (UK)
April 06 - Axe & Cleaver, Boston (UK)
April 07 - Thatched House. Stockport (UK)
April 08 - Snooty Fox, Wakefield (UK)
April 09 - TBC
April 10 - Club Rio, Bradford (UK)
April 11 - TBC
April 12 - TBC



Lineup Change & Festival in Terni - September 24, 2009
Due to different point of views, Winter of Life and Gianfranco delle Cave have parted ways. We have spent a great time with him, and we wish him all the best in his activities. Bass guitar duties have been taken by Claudio Vitiello, who has played with us in the past five months and who has given us an important song-writing charge. We are now at work to give birth to a surprising follow-up to Mother Madness.
Winter of Life will be playing at the "Days Shocking Ground Fest" in Terni on October the 3rd. The bands on stage will be:

Saturday, 3rd October:

Viper
Light Silent Death
Winter of Life
Enemynside
Theatres Des Vampires
Killing Touch
Infernal Poetry
Stormlord

Sunday, 4th October:

Lost in Oblivion
Amantyde
IceHel
DGM
Eldritch
Domine
White Skull
Vision Divine

For any kind of info, please call +39 3314166405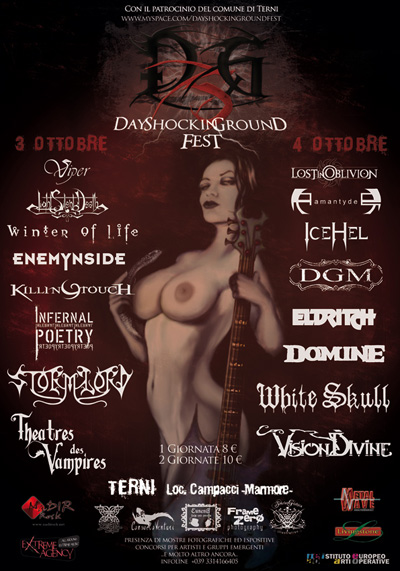 Release party & release date! - April 20, 2009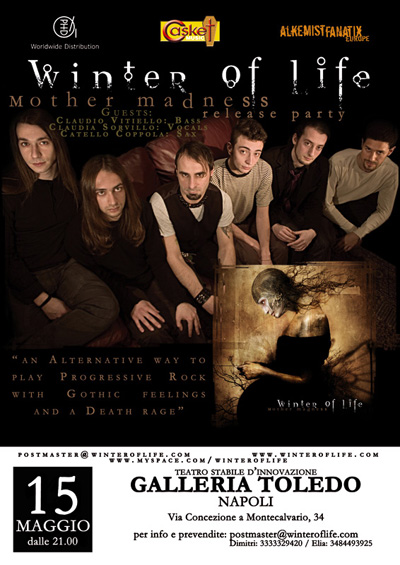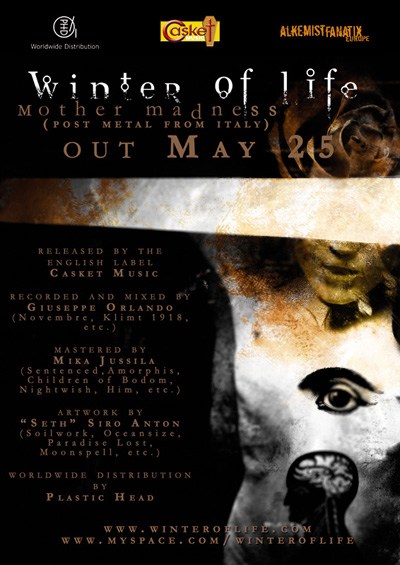 We are proud to annunce our Release Party on the 15th of May at "Galleria Toledo" theater in Naples (Italy) (via Concezione a Montecalvario, 34).
The tickets (available on presale by sending an email to postmaster@winteroflife.com or calling Dimitri at 3333329420) will cost 8€, the show will start at 9PM. It will be possible to buy our cd and our merchandise at a special price at our show, before the official launch!

We want to thank some guests that will make this gig a unique event: Claudio Vitiello on bass guitar, Claudia Sorvillo on vocals and Catello Coppola on sax!

The show will be about 2 hours long! Godfather Studios will take care of audio and lighting service and will guarantee a very high quality to the event!

We'll be waiting for lots of you and we ask you, if you can, to spread the news!
We can also confirm the official launch date of our cd "Mother Madness", it will be on the 25th of May, and it's already possible to preorder the album online at: PlasticHead, Play.com, Townsend Records, Amazon UK, HMV & Amazon Japan.
We will update you as soon as we know of other online stores, even extra-UK & Japan ones, and as soon as we open our own online store.
See you soon!



Great news! - April 15, 2009

Big changes: new site online.

We have signed for the English label Casket Music, a division of Copro Records, and the release date of "Mother Madness", our first full-length, is scheduled for the end of May and will be globally distributed by Plastic Head.

We have also signed a management and promotion contract with Alkemist Fanatix Europe, and a publishing contract with Carlo Bellotti Publishing/Warner Chappel Music.

On the 15th of May there will be a Release Party for our album "Mother Madness" at "Galleria Toledo" theater in Naples (Italy).

There will be an online store in which you'll be able to buy our cd and band merchandise.

We are also going to plan some European mini-tours.

We'll be waiting for lots of you on our site, on MySpace, on the new Facebook fan page and most importantly at the Release Party.